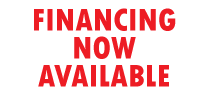 The Offer: Flexible loan terms from 24-84 months; no pre-payment penalty
1. Fixed Rate Interest Rates starting as low as 3.74 APR. (1)   (2)   (3)
2. No upfront origination fees.
3. LightStream offers unsecured consumer financing for loans up to $100,000 (as low as $5,000).
4. Program is offered to consumers with good to excellent credit (a minimum credit score of 680 is needed to be considered for a loan offering).
5. Application not limited to just one income earner within household; can submit a joint application within household (may improve chances of funding approval).
What It Means to You: The Customer
1. You can start your project today—No hassles finding cash for a down payment.
2. Funds can be used for anything you want to finance (new pool construction, pool repairs, above ground, in-ground, pool equipment, spas, landscaping, irrigation, outdoor kitchens, patio furniture, etc.).
3. It's quick and easy—a Paperless on-line loan application process with a response in minutes.
4. Most loans can be funded within one day after receiving a loan application if applicant so desires, and some loan applications can actually be approved and funded into the applicant's bank account on the same day.  (4) Customers with credit scores under 680 can choose to Opt In to the Referral Program box  to get offers from other Lending Club members.
(1) Rates are subject to change at any time without notice
(2) Interest rate range includes a .25{31a7a4e5ed917670140b93e86ee58daf50b2a2441395eb46bcede2124d214415} reduction exclusive to PoolCorp customers applied through our financing link
(3)Now until October 31st, for POOL Dealers ONLY, LightStream is providing a special promotional 3.74{31a7a4e5ed917670140b93e86ee58daf50b2a2441395eb46bcede2124d214415} interest rate that our dealers' customers may qualify for
(4) Loan can be funded on the same day if one applies, is approved and completes the following steps by 11:30 a.m. Pacific time on regular business days (M-F): (a) reviews and electronically signs your loan agreement, (b) provides LightStream with your funding preferences and banking information, and (c) completes the final verification process (excludes federal holidays)